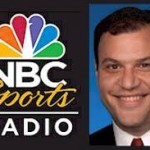 Jon Stashower joined NBC Sports Radio in 2012 and serves as the host of The Jon Stashower Show, weeknights 7-10 p.m. ET on NBC Sports Radio.
A veteran of sports talk radio, Stashower spent more than a decade working for ESPN Radio as a SportsCenter anchor and talk show host for the network's MLB, NBA and college football coverage. In addition, Stashower also regularly served as a reporter for ESPN's coverage of the Winter and Summer Olympics, Super Bowl, MLB World Series and the U.S. Open.
Stashower began his career at WELI radio in New Haven, Conn., and has held positions at WFAN in New York and CRN in Hamden, Conn.
Stashower attended Syracuse University and graduated with a degree in broadcast journalism.